Tuesday, August 31, 2004
exams
I had my 3rd (?) exam today for my MB training, which included a written exam and the hands-on section where I had to make 5 cold drinks in 10 minutes. The final verdict: I made 5 cold drinks in 9 minutes! Yey! And then the other baristas (the regular staff) beat me to the punch and drank the one drink that I wanted to taste. *sniff*

Oh well.

And now on to the hot beverage station. This is the part where my hands and arms will be forever cursing me as I prepare to subject myself to being burned by hot water and steamed milk.

But who's complaining? Not me! Hello! Coffee na eh.
posted by Jax @ 12:57:00 AM


Friday, August 27, 2004
sniff
You know what's sad?

Last night, I had a hard time falling asleep because I kept thinking about the cold drinks I have to constantly make at Mocha Blends. I kept thinking about each drink, the ingredients and the measurements. We have a practical exam on Monday and I have to be able to make 5 drinks at 2 minutes each.

After what seemed like an eternity, I finally fell asleep. But my mind unconsciously worried too much for me. I dreamt it was Monday and I was already making the five drinks.

Damn. I think I need to get a life.
posted by Jax @ 6:13:00 AM


Thursday, August 26, 2004
years and years
10 Years Ago, I...
1. was 13 years old
2. was in the 7th grade.
3. had bad taste in clothes

5 Years Ago, I...
1. started my sophomore year in college at Ateneo.
2. hated my Marketing professor.
3. loved my Writing class/

3 Years Ago, I...
1. was an incoming senior in college.
2. became part of Sanggu 2002
3. became a believer.



A Year Ago, I...


1. got accepted in grad school.
2. went to Dumaguete for the first time.
3. started Jax Place.



This Year, I...


1. started my MB training.
2. had my room redecorated.
3. have watched more than 70 new movies, so far.



Yesterday, I...


1. made at least 10 cups of long black coffee.
2. had Chowking for lunch.
3. met together with my sister and brother the architect designing our store.



Today, I...


1. made more cold drinks.
2. kept trying to convince the staff to order Blue Kiwi Blend so I can make it. Still no luck.
3. had KFC for dinner.



Tomorrow I will...


1. have my day-off.
2. go to SM to canvass the things we need for the store.
3. attend a BIR seminar.
posted by Jax @ 8:24:00 AM


Wednesday, August 25, 2004
sleep
It's 11p and I can barely open my eyes to type this. I should be sleeping but I'm not. I got my new monitor, all 17 inches, last Monday and I can't stop using it ever since. I've decided to christen my PC again and name it George. Fits perfectly.

Because of the terrible rains earlier, there were only 3 of us for the opening shift at MB this morning. Most of them arrived after lunch because of floods and rains everywhere. But I'm not complaining since I was able to practice making a perfect cup of long black coffee. I can now do it with my eyes closed. Well, figuratively speaking. I also tried to convince our manager to order (for himself) a glass of their fruit drinks so I can make it. No such luck though. I've managed to successfully make the store's signature drink but that doesn't really count since almost everyone orders that anyway.

But I like the fact that there were really just the 3 of us trainees and the 2 managers present for most of the day at the store. Because that only means one thing: no one else is there to make the drinks but the trainees. Yey!

Everything that has happened has been such a blessing and I thank the Lord for giving me the strength and the patience to deal with everything. I look forward to my training everyday because I know I'll be learning something new everytime I go there. And it doesn't hurt that the company's good.

If you're ever in the area (Mocha Blends Robinson's Metro East), be sure to drop by and give me a holler!
posted by Jax @ 8:06:00 AM


Tuesday, August 24, 2004
Mocha Blends
15 days into training and 4 months since first deciding to venture into the coffee and food business, I am still unsure whether this is the right direction for me. I'm having the time of my life, mainly because of the good company, but this is tiring as hell.
posted by Jax @ 5:31:00 AM


Saturday, August 21, 2004
Status
Hey everybody! I know I have been out of commission for around 2 weeks now (and it's killing me, I can't work because of it!).

Two reasons:

1. My monitor broke down. And it took the service guys 7 days to figure out what was wrong with it. The picture tube had to be replaced and since it costs nearly as much as a brand new monitor, I've decided to buy one. But I haven't. Yet. I'll probably buy a new one on Monday. I haven't done any of my work because I'm so dependent on my computer. Hopefully, things will change next week.

2. Another reason is that I have started my training at Mocha Blends. In case you are in the area, I am currently training at Mocha Blends Metro East. I am there almost everyday. If I'm not there, it means I have the day off, I am attending an orientation or I have not yet arrived. Be sure to drop by if you are ever in the area!

I hope to go back to regular programming next week because I really, really miss my PC. So there. :)
posted by Jax @ 5:00:00 AM


Sunday, August 08, 2004
First Round and Old Friends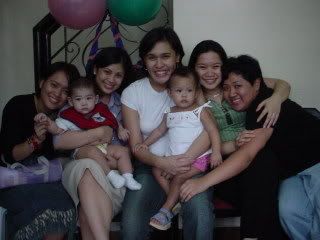 Some of my high school best friends. We were together yesterday to celebrate the 1st birthday of our friend's daughter (the kid wearing pink and white). It was so good to see them again!



***



Ateneo won against FEU this afternoon. 67-64! Courtesy of another three-pointer from LA Tenorio. After the first round of eliminations, Ateneo is now 7-0! Yey! I hope we win the championship again this year!


posted by Jax @ 5:37:00 AM


Saturday, August 07, 2004
Female Spideys
Oo nga no...

How come there aren't too many female "Spidermans" out there?

How come there aren't too many female action heroes out there in movies that could be role models for growing females out there?

At least we had Buffy and Xena.

And those eternal words...



"I am no man."



Naks! What a clincher for Eowyn!
posted by Jax @ 11:17:00 PM


From Katz:








I'm exceptionally artistic!



Fair enough. Perhaps they haven't. But now that you know, you must become one with your inner self.

Virtues: You look for immense creativity and individuality in people, including yourself. You're not happy with anything less than brilliant, and you focus on being expressive. You value energy, liveliness, and upbeat personalities, but you're not supportive of moodiness when you yourself can be unreliably moody. Seeking activity, you like the bustle of business but need the secluded atmosphere of a studio or private corner.

Aspirations: You feel the need to express your talents, whether it be through writing, drawing, singing, dancing, composing, performing, or photographing. While you strive to ever improve your work, you want to display it as soon as possible when your impatience kicks in. You want to be a prodigy but you might not have the means right at your fingertips. Trust me, do NOT move to New York to do it. Yeesh!

Quirks: Conformists bother you because of their lack of individuality. You're often late or unreliable. You're showy and refuse to share the spotlight. You only tell little white lies. You worm your way into the hearts of others, but be careful; some people despise the show-offs.

Factors: Surround yourself with activity and you'll always have material to work with. Involve friends and family in your projects so they don't feel like envious outsiders.

Future: Show business or not, you'll settle down happily if you're among those who appreciate your natural talents and desire to perform. Don't stay in one place too long, and don't be too hasty in defining your relationships. Who are you to judge what only time will tell?

* * *




Find your soul type at kelly.moranweb.com.

Labels: surveys
posted by Jax @ 10:44:00 PM


Thursday, August 05, 2004
ADMU Spirit
Cha! Baka maiyak ako!

I don't even know why I bother going there. It's like I want to torture myself. People have told me not to visit anymore because they know the effect that it has on me.

Before you think that this is some big, national issue, it's not. But it is an issue that's close to my heart. I am talking about the Ateneo heart and spirit. Although I think the "all-out support" for Larry has gone overboard, I still haven't underestimated the heart of an Atenean. Non-Ateneans have always misunderstood an Atenean and think they are all about parties and fashion and fancy cars and suffering from superiority complex.

Admittedly, there are some people like that. But most Ateneans are some of the most passionate people out there, whether it be in business, politics, the arts, sciences and/or the medical field. That's probably why when non-Ateneans do meet the Ateneans, they are genuinely surprised because they are not who they thought they were. These Ateneans are so passionate about making a difference. People don't hear about them because doing the work is enough. Letting the whole world know about it is not very important for them. There are some Ateneans who are some of the most down-to-earth people I know.

I am Atenean and I am proud to be an Atenean. I will always be thankful to Ateneo because my Ateneo education shaped the person that I am today. I learned to think for myself, to be socially-aware, to take action, to work, to lead others by serving them, to love God above all else.

I don't really respond to "false allegations and accusations" against Ateneans but when they've gone too far, I always put these people in their place. It's just so sad that they don't practice the education the education that they received. I mean, what kind of education teaches its students to backstab, misjudge and accuse another group of people?

I consider myself an Atenean and I will always consider myself an Atenean. And if anyone dare cross us falsely again, I will be prepared to meet them head-on. I have the utmost respect for every person but when they show themselves to be ignorant, judgmental and narrow-minded, they better prepare for the consequences of their actions.
posted by Jax @ 3:16:00 AM


Wednesday, August 04, 2004
Wireless Internet
I need to find a

wireless internet provider

in Manila. Does anybody know any names?
posted by Jax @ 4:49:00 AM


Tuesday, August 03, 2004
The Vintage Bookshop
I have a new racket, along with my sister. We are selling used books (fiction, romance, classics, children's lit). Check out our titles here or you can download our new titles here. If you'd like to order a book (or books), you can e-mail me at thevintage_bookshop at yahoo dot com or my personal email at hazpafis at gmail dot com or you can text me, if you know my cellphone number. We can arrange a book pick-up schedule, in case you do order book/s from us, or we can arrange a day so you can pick-up the books here at my house.

Feel free to look around the site and let me know. Tell all your friends about us!
posted by Jax @ 8:31:00 PM


UAAP Ateneo Fans
"We didn't need to overhype an injured player as an inspiration. We just fought back and never gave up and eventually won the game fair and square. There was no cheers for one particular player, only cheers for one particular team!"

This was from a particular PExer who clearly misunderstood the Atenean's love for their players. Our players play with all their heart and cheering for them with all our heart is the least that we, the Ateneo fans, can do for them. And that's what I really love about the UAAP Atenean fans: they're all heart! And when the going gets tough and it seems like Ateneo was going to lose, the fans are there to cheer them on all the way. Case in point: the game against Adamson. Adamson was leading by as much as 18 points but in the end Ateneo won by 3 points. And there were also times when Ateneo lost big time but the fans were still behind them, still giving the players their support. I guess if you're not a fan or if you don't give with all your heart, then you'll never understand.
posted by Jax @ 2:53:00 AM


About Me
Name: Jax
Home: San Francisco, CA, United States
About Me:
See my complete profile
I am a freelance writer, editor and blogger.
I write from home and I write from the
coffee shop I manage. I am also a graduate
student at AAU, studying film.
I have never been more stressed in my life.
And I am loving it!
To know me and more about my writing services, drop me a line at
jtabergas [at] yahoo [dot] com.
Meanwhile, read some of my works here:

Previous Post
Affiliates
Archives
Links
Powered by



Pinoy Blog Directory




This work is licensed under a Creative Commons License.