Thursday, July 27, 2006
Monster House
I used to look forward to Hollywood summer movies because they were very entertaining These past years, however, have been rather disappointing. After Superman Returns, X3: The Last Stand and Pirates of the Carribean: Dead Man's Chest (which I still haven't watched), there's really nothing to look forward to. Well, except for The Devil Wears Prada, but not because I've read the book, but because of Meryl Streep.

But I've found something! Something to look forward to! And surprise, surprise! It's not even a big-budget movie or an artsy-fartsy indepedent movie.

It is a children's animation movie.

Yes. I am looking forward to watching Monster House.

And, according to this, the movie's not that bad.


Labels: animation, hollywood actresses, monster house, movies, summer movies
posted by Jax @ 10:47:00 PM


Singapore, etc.
I have come back well-rested and recharged. Holidays are a godsend. Everyone should have it, every now and then, if they can. Four days in a different country is just enough (for now) to forget about work and be able to go back to it after.

I bought new babies: this one and this one. I bought new clothes, new shoes, new CDs, new DVDs, new
books.

I was so happy at HMV! I bought the CDs that I wanted but could not find here like:

*Testimony : Vol. 1 Life and Relationships, India Arie
*Fisherman's Woman, Emiliana Torrini
*Let's Get Out Of This Country and Biggest Bluest Hi-Fi, Camera Obscura
*Speak For Yourself, Imogen Heap
*29, Cold Roses and Jacksonville City Nights, Ryan Adams
*The Life Pursuit, Belle and Sebastian
*Years Of Meteors, Laura Veirs
*Pink Moon, Nick Drake
*Brushfire Fairytales, Jack Johnson
*Woman King, Iron And Wine
*In The Reins, Calexico & Iron And Wine

Happy happy! Joy joy!

But the highlight of my entire trip was not the shopping or the food (although the food was amazing! nydc cheesecake, I love you!).

The highlight of my trip was this: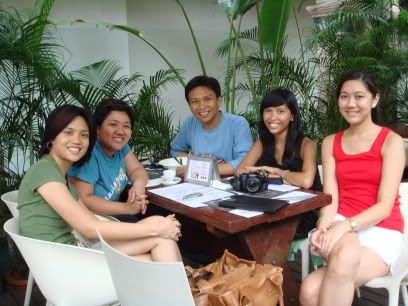 Leeyaj is currently studying in Singapore and Eileen is working there. Den is also visiting from Australia and is staying with her best friend, Erika, who is also working there.

I haven't seen these three people (I only met Erika last weekend) in more than two years and it was just so great to see them and talk to them and catch up with everyone's lives. We laughed, talked, ate, drank (at that "expat's place" *wink
wink*) and poured our hearts out. It's just so great to see old friends again!



***



Remember the guy I was talking about? You know, the gorgeous guy? I thought I wasn't gonna see him anymore coz he already came back to the store last Saturday and I wasn't there! My staff, however, took a picture of him but I wanted more, of course. I wanted to see him in person!

And you know what? God heard me.

He came back to the store yesterday!

Only to tell me some bad news, yesterday was his last day and he's flying back to Saudi today. :(

Seriously?

But I like to think that he came back to the store on his last day to see me. Because right before he left, he asked for my email address so he could keep in touch with me.

I was in heaven.

*sigh*

The next time I'll see him will be in twelve months, when he comes back here next July for his annual holiday.

But that's still so far away!

At least we'll have Gmail.

Labels: apple ipod, friends, holidays, music cd, shopping, singapore, sony cybershot
posted by Jax @ 6:14:00 AM


Wednesday, July 19, 2006
Goodbye, My Friends
There comes a time in one's life when enough is enough. For two years, I have poured my heart and soul into my work. I worked endless hours to try and make everything right, the way it should always be.

It can be a thankless job but I am glad I am doing this. Because I love it.

And finally, I am being rewarded for my good work.

So, friends, I bid you GOODBYE.

For in less than 14 hours, I am flying off for my first vacation in two years. Ironically, I am flying back to the place where I spent my last vacation.

Yes, my friends.

I am flying to Singapore tomorrow and enjoy what is left of the Great Singapore Sale.

Til next week!

Labels: great singapore sale, holidays, singapore
posted by Jax @ 3:27:00 AM


Tuesday, July 18, 2006
25 Must See Movies: Yea or Nay?
Radio Times has released a list of must-see movies, as reported by BBC.

Do you agree?

I've seen only 3 of these "must-sees". Do you agree with this list?

Radio Times film editor Andrew Collins, who compiled the list, said: "Snobbery does not belong to the film buff."

He added: "To understand the 1980s/1990s blockbuster, you must accept producer Jerry Bruckheimer into your life. Armageddon is the pinnacle of Bruckheimer excess."

Seriously?

Labels: armageddon, bbc, hollywood actresses, jerry bruckheimer, movies
posted by Jax @ 10:15:00 PM


Saturday, July 15, 2006
Fab Five Are Coming To Town!
I've been waiting for them to come here. And they were planning to last March. But it got postponed because of all the political turmoil in Manila.

But it's finally pushing through!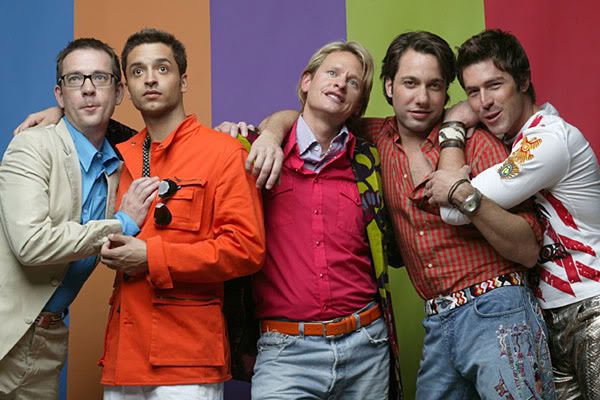 The Fab Five are coming to town!



They have scheduled appearances at the Ayala Malls on June 20, 21 and 22.

And you know what sort of sucks about it?

I'm not gonna be here to see them in person!

But it's still a good thing. Coz I'll be missing the Fab Five for a Fab Sale.

So I guess all is still well.

Labels: carson kressley, fab five, jai rodriguez, kyan thomas, queer eye for the straight guy, ted allen, thom filicia
posted by Jax @ 4:36:00 AM


Thursday, July 13, 2006
All About Movies
****LOTS OF SPOILERS!****

1. X-Men 3: The Last Stand

3 years have passed since the last X-Men movie. And I've waited for 3 years for the next X-Men movie to be shown on the big screen. Then I found out
Bryan Singer was not returning to direct the third movie and is, instead, focusing on bringing back Superman. Then I heard news that Halle Berry was the only one coming back for the third movie.

Fortunately, the whole cast is back and even brought in my favorite X-Man, Henry McCoy, a.k.a. Hank McCoy, a.k.a. Beast. The only thing that stands in between not good and amazing is the new director, Brett Ratner, of the only-good-for-laughs Rush Hour 1 and 2 (where Jeremy Piven plays a blonde, gay fashion consultant, I just had to sneak that one in).

Uh-oh.

Unfortunately, things didn't go as well as planned. I hated the way the story progressed. I hated the way they developed the storyline. I hated the way they turned Logan into this weeping romantic still in love with Jean Grey. I hated the way they killed Professor X. I hated the way they kept every other character hanging. I hated the priorities they gave the others' characters.

In short, I hated what Brett Rattner did to the movie.

But I still "love" it because it's X-Men but I probably will not watch it a second time. It's that bad.

*sniff sniff*

Why did you have to leave, Bryan Singer?!

2. Lucky Number Slevin

This movie is so in love with itself. It oozes so much confidence in itself that it comes off as pompous and arrogant. And it is a movie that is very pleased with itself even when results aren't even that great. I love the cast (Morgan Freeman, Ben Kingsley, Stanley Tucci, Bruce Willis, even Josh Hartnett coz he's my crush). But c'mon, don't shove it in our faces that you're trying to do a good and original movie coz it's not.

3. Nanny McPhee

"Nanny McPhee, we need you!" I love this movie! It's all so cute and colorful and just plain wonderful! I love it! It's a typical kids movie but such a great stress reliever. Watch it! Watch it!

4. Little Manhattan

This is one of the sweetest and cutest movies about puppy love that I've seen since Diane Lane's A Little Romance. Love at its finest because it's so pure and innocent. Still painful though. Imagine falling in love and getting rejected at the age of 11. Ouch!

5 Things I Love About Superman Returns
1. Superkid

There's a Superkid! And he killed a guy by pushing a grand piano to crush the guy! Awesome!

2. Parker Posey and 3. Kal Penn

I love them! No matter what they do, no matter how insignificant their roles can be, I will always love them!

4. Bryan Singer

Why couldn't you have done both X3 and Superman Returns? This movie had focus, X3 didn't. Why? Why? Why?

5. Superman Returns

I love the fact that they focused the story on Superman and not the life in Metropolis now that Superman has returned. I love it!

4 Things I Don't Like About Superman Returns
1. Kate Bosworth

So many people have already said it. It's hard to imagine Kate Bosworth as a veteran, Pulitzer Prize-winning journalist. This isn't Kate Bosworth playing Lois Lane. This is Kate Bosworth trying to act. Because let's face it, Kate Bosworth is not the world's best actress. Even Teri Hatcher pulled off a better Lois Lane than Bosworth ever will.

2. Kevin Spacey

As with Kevin Spacey. He is not Kevin Spacey playing Lex Luthor. The whole time I was watching him on the big screen, I kept seeing Kevin Spacey and not Lex Luthor.

Huhuhu!

No!

That shouldn't be happening! Because he's Kevin Spacey! No!

3. Brandon Routh

Yes. He does resemble Christopher Reeve, the original Superman. But boy! Routh cannot act! He may be able to act as Clark Kent, the fumbling, nervous, geeky reporter but he does not have the confidence and charisma of Superman!

4. Superman Returns

Story was soooo thin. It was so obvious that the producers are just riding on the popularity of comic book movies today. Gah!

Upcoming Movies

I am excited for these upcoming movies.

The Namesake

This is one of my favorite books by own of my favorite authors, Jhumpa Lahiri. I didn't even know it was being made in to a movie. And starring Kal Penn! Yeah!

The Last Kiss

I wasn't interested at first but when I found out Rachel Bilson was gonna be in it, I watched the trailer. Nothing new. But I'm not watching it for the story. I'm watching it for Rachel Bilson!

Labels: a little romance, bryan singer, jhumpa lahiri, little manhattan, lucky number slevin, movies, nanny mcphee, superman returns, the last kiss, the namesake, xmen
posted by Jax @ 12:57:00 AM


Sunday, July 09, 2006
Guess What?
Okay. So you guys have been reading my posts for the past three years? And you know I've never really gushed about any guy here, right? Well, except for my celebrity crushes.

But I just have to write this.

I just met THE MOST GORGEOUS MAN EVER!

He's the son of one of my regulars. He's half-Filipino and half-English. And I swear he is GORGEOUS!

I'm sorry.

Most of the time I meet cute guys and pwede na guys and may itsura guys. But I've never met anyone like this guy before.

And he's nice and polite.

Too bad he's a smoker. I don't like smokers.

And even if I can forget that fact, he's only gonna be here for a month. Coz he works abroad and he only visits his parents who are based here for a month every year. So the next time I will probably see him after this next year at this time.

Argh!

I do not dare write his name here because just when I think I'm safe, I'm not. I'm un-lucky that way. And I don't want him finding out, with me gushing like this.

Grabe talaga!

Labels: crushes
posted by Jax @ 5:30:00 AM


About Me
Name: Jax
Home: San Francisco, CA, United States
About Me:
See my complete profile
I am a freelance writer, editor and blogger.
I write from home and I write from the
coffee shop I manage. I am also a graduate
student at AAU, studying film.
I have never been more stressed in my life.
And I am loving it!
To know me and more about my writing services, drop me a line at
jtabergas [at] yahoo [dot] com.
Meanwhile, read some of my works here:

Previous Post
Affiliates
Archives
Links
Powered by



Pinoy Blog Directory




This work is licensed under a Creative Commons License.