Wednesday, September 20, 2006
So, how are you?
School + Work = Not an easy thing to do.

It's a good think I'm only taking one class this semester. I swear, whoever says balancing work and school is easy to do has obviously not done this before.

It's so hard!

But I can do this. I just need some time to adjust.
posted by Jax @ 4:14:00 AM


Wednesday, September 06, 2006
Guess Who?




Can you guess the identities of this baby's famous parents? Click here to know for sure.




Such a beautiful baby!

Labels: celebrity kids, suri cruise
posted by Jax @ 10:53:00 PM


Tuesday, September 05, 2006
"Crocodile Hunter" Is Dead
I still cannot get over the fact that Steve Irwin is dead. I always thought he was immortal, you know. I can't help it since he's dealt with a lot of dangerous animals and he's always come out alive.

Everyday I wake up, thinking, hoping this is just a bad dream. But it's not. And if his death is affecting me, a complete stranger, this much, I cannot imagine how his family is feeling right now. He leaves behind his wife and two kids (8 years and 2 1/2 years).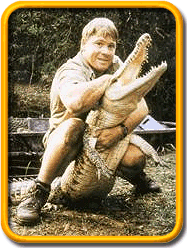 R.I.P. Steve Irwin (1962 - 2006)
We will miss you.
Labels: aussie, crocodile hunter, steve irwin
posted by Jax @ 7:48:00 PM


About Me
Name: Jax
Home: San Francisco, CA, United States
About Me:
See my complete profile
I am a freelance writer, editor and blogger.
I write from home and I write from the
coffee shop I manage. I am also a graduate
student at AAU, studying film.
I have never been more stressed in my life.
And I am loving it!
To know me and more about my writing services, drop me a line at
jtabergas [at] yahoo [dot] com.
Meanwhile, read some of my works here:

Previous Post
Affiliates
Archives
Links
Powered by



Pinoy Blog Directory




This work is licensed under a Creative Commons License.