Sunday, August 08, 2004
First Round and Old Friends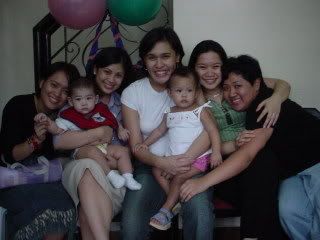 Some of my high school best friends. We were together yesterday to celebrate the 1st birthday of our friend's daughter (the kid wearing pink and white). It was so good to see them again!



***



Ateneo won against FEU this afternoon. 67-64! Courtesy of another three-pointer from LA Tenorio. After the first round of eliminations, Ateneo is now 7-0! Yey! I hope we win the championship again this year!


posted by Jax @ 5:37:00 AM


About Me
Name: Jax
Home: San Francisco, CA, United States
About Me:
See my complete profile
I am a freelance writer, editor and blogger.
I write from home and I write from the
coffee shop I manage. I am also a graduate
student at AAU, studying film.
I have never been more stressed in my life.
And I am loving it!
To know me and more about my writing services, drop me a line at
jtabergas [at] yahoo [dot] com.
Meanwhile, read some of my works here:

Previous Post
Affiliates
Archives
Links
Powered by



Pinoy Blog Directory




This work is licensed under a Creative Commons License.