I still cannot get over the fact that Steve Irwin is dead. I always thought he was immortal, you know. I can't help it since he's dealt with a lot of dangerous animals and he's always come out alive.

Everyday I wake up, thinking, hoping this is just a bad dream. But it's not. And if his death is affecting me, a complete stranger, this much, I cannot imagine how his family is feeling right now. He leaves behind his wife and two kids (8 years and 2 1/2 years).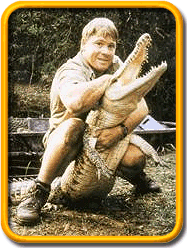 R.I.P. Steve Irwin (1962 - 2006)
We will miss you.
Labels: aussie, crocodile hunter, steve irwin