Wednesday, October 20, 2004
can ladies be detectives?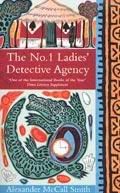 The No. 1 Ladies' Private Detective Agency
By: Alexander McCall Smith

I've been hearing too many people reading this book and I've been seeing it for so long in different bookstore all over the Metro. It caught my eye one day (the colorful cover helped, too) and since I was looking for new authors to read, I bought and read it.

One thing that also peaked my interested was that the book was set in Botswana. I've read many books but I've never read any book that was set in Botswana. And it's not even a book about a foreigner trying it out in Botswana but about a local Botswana woman putting up a private detective agency in Botswana.

It's an easy read. At first you'd think it was book for children or, at the most, a young adult. But it's surprisingly for older people simply because storylines are too sensitive for the younger people. It's almost like reading one of those Ghostwriter books, except it's not as simple as that.

It's a great way to pass the time and to relax the mind. It takes you away from wherever you are or whatever state of mind you're in. In a way, it stops time. It's meant to be funny yet introspective and educational at the same time. Mma. Ramotswe is interesting and different. And that's probably why I was drawn to reading her story.

There are already around five or six books published in the series and all are probably available at your local bookstore. Check it out. What have you got to lose?
posted by Jax @ 3:39:00 AM


About Me
Name: Jax
Home: San Francisco, CA, United States
About Me:
See my complete profile
I am a freelance writer, editor and blogger.
I write from home and I write from the
coffee shop I manage. I am also a graduate
student at AAU, studying film.
I have never been more stressed in my life.
And I am loving it!
To know me and more about my writing services, drop me a line at
jtabergas [at] yahoo [dot] com.
Meanwhile, read some of my works here:

Previous Post
Affiliates
Archives
Links
Powered by



Pinoy Blog Directory




This work is licensed under a Creative Commons License.