Tuesday, October 19, 2004
takeshi kaneshiro and house of flying daggers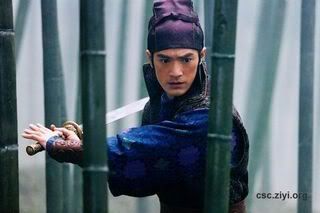 I kept telling my sister that, after watching House of Flying Daggers, I now had the biggest crush on Andy Lau. I was wrong. I had a crush on Takeshi Kaneshiro pala. But, yeah, I have a new crush! -- to add to my already long list of crushes, which has become very international, indeed! Hehe. I'm so tempted to post the list here. Maybe some other time. That's going to take a whole entry. Or two.

The movie was good. Actually, no, it was beautiful. As usual, I loved how Zhang Yimou played the colors around and used it with the whole story. And, at first, I thought that was the only thing I was going to like about the whole movie but as I was watching Jin (Takeshi Kaneshiro) and Leo (Andy Lau) fight, I realized that maybe it wasn't so bad afer all. The love story was a bit confusing, at first, and I thought it was a bit forced. Then I realized near the end that maybe Zhang Yimou was asking himself and us, "How do you know that it's love? How far would you go for love?" Although, I still didn't like how he ended it. Too many loose ends for me.

But it's still a good movie. Not a great one, but enjoyable nonetheless.

Here's another picture of Takeshi Kaneshiro with Zhang Ziyi. Gwapo!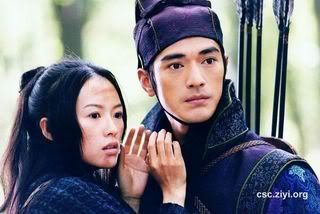 Labels: american idol, movies
posted by Jax @ 6:39:00 AM


About Me
Name: Jax
Home: San Francisco, CA, United States
About Me:
See my complete profile
I am a freelance writer, editor and blogger.
I write from home and I write from the
coffee shop I manage. I am also a graduate
student at AAU, studying film.
I have never been more stressed in my life.
And I am loving it!
To know me and more about my writing services, drop me a line at
jtabergas [at] yahoo [dot] com.
Meanwhile, read some of my works here:

Previous Post
Affiliates
Archives
Links
Powered by



Pinoy Blog Directory




This work is licensed under a Creative Commons License.