Monday, November 22, 2004
coffee
WARNING! LARGE DOSE OF COFFEE IN THIS POST!


I was in Fully Booked this afternoon and I went to section about different beverages and, of course, I browsed through the books about coffee. Oh goodness! I was in heaven once again!

Too bad I couldn't afford all of it. But there were really good ones. Like this one that has information about brewing and buying coffee and some recipes we could use for "any future store". And another one about the cultural history of coffee from its first conception to the philosophizing in a coffee shop. And another one that lists places to buy fine coffee and where to get a good cup of coffee and what the best espresso machine is.

But since we couldn't buy all of them, my sister and I settled on this book: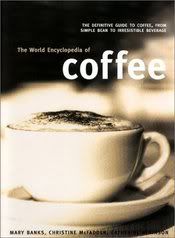 The World Encyclopedia of Coffee: The Definitive Guide to Coffee, from Simple Bean to Irresistible Beverage by Mary Banks, Christine McFadden, Catherine Atkinson



The book contains the history of coffee, where in the world the best coffee is, describes the coffee beans from different countries and even has recipes for pastries and coffee drinks. It's a really good book, very informative. It can help us when we conceptualize the products for our future store.

But we're going back and still gonna get the other books. *wink*
posted by Jax @ 7:44:00 AM


About Me
Name: Jax
Home: San Francisco, CA, United States
About Me:
See my complete profile
I am a freelance writer, editor and blogger.
I write from home and I write from the
coffee shop I manage. I am also a graduate
student at AAU, studying film.
I have never been more stressed in my life.
And I am loving it!
To know me and more about my writing services, drop me a line at
jtabergas [at] yahoo [dot] com.
Meanwhile, read some of my works here:

Previous Post
Affiliates
Archives
Links
Powered by



Pinoy Blog Directory




This work is licensed under a Creative Commons License.