Sunday, December 26, 2004
Christmas 2004
Christmas 2004 has been amazing, not to mention full of food! We spent Christmas Eve at my grandma's house as well as Christmas lunch, which extended to snacks and then dinenr. Let me tell you. When we started eating, the food never stopped coming. I mean, we haven't even finished eating lunch yet and the snacks are already being prepared and brought to the dinner table. Would you believe we had snacks coming one after the other from about 2 in the afternoon to about 5 or 6pm! As usual, it was pure chaos. But an enjoyable one. It's that sort of chaos I look forward to everytime we have a reunion.

Til the next one!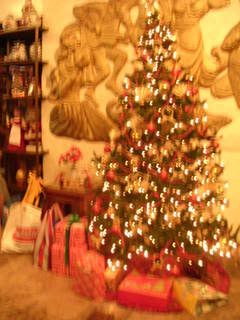 posted by Jax @ 6:11:00 AM


About Me
Name: Jax
Home: San Francisco, CA, United States
About Me:
See my complete profile
I am a freelance writer, editor and blogger.
I write from home and I write from the
coffee shop I manage. I am also a graduate
student at AAU, studying film.
I have never been more stressed in my life.
And I am loving it!
To know me and more about my writing services, drop me a line at
jtabergas [at] yahoo [dot] com.
Meanwhile, read some of my works here:

Previous Post
Affiliates
Archives
Links
Powered by



Pinoy Blog Directory




This work is licensed under a Creative Commons License.