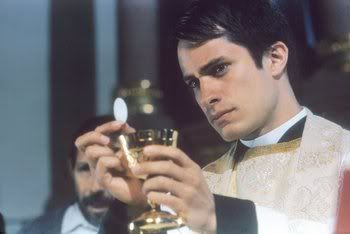 Ever since I can't remember, I have loved this guy. Until now, I still do. Hazel shares my love for him. He's just one of those actors who are good-looking but can still act. I've yet to see him in a break-through movie though. Y Tu Mama Tambien, IMO, wasn't. The movie just introduced Gael to the world.

He's got two new movies, The Motorcycle Diaries (which opened this weekend in the US) and Bad Education (directed and produced by the amazing, amazing Pedro Almodovar). Bad Education was actually released March 2004 in Spain and have been going the rounds worldwide. I checked IMdb for worldwide release dates and they don't include the Philippines yet. Even Motorcycle Diaries doesn't have a Philippine playdate yet. I think they're still concentrating on distributing it around North America, Europe and South America. I hope they bring the movies to Asia soon. Paging Almodovar and Salles!

EDIT: Apparently, he's dating someone called Anabella Costa, an actress from Argentina. I don't know if that's true though. But there's a picture of them here.





Labels: american idol, movies